StarCom Solar
StarCom Solar is a manufacturer of solar powered safety products. With our combined 50 years' experience in the demanding commercial and petrochemical markets, our rugged safety products have helped us developed a unique company that can assist in bringing attention to a hazardous area, traffic control, designing a gas detection plan, boost wireless connect ability at your jobsite, and a number of additional industry applications.
Customer LIst
We are proud to have served some of the finest company's in the world
AquilexHydrochem
BASF
bhpBilliton
ConocoPhillips
Duke Energy
EI du Pont
ExxonMobil
Impala Warehousing (US)
Lubrizol
Marathon Petroleum
Motiva
New York Power Authority
Oiltanking
TOTAL
US Army
US Navy
Valero
Veolia
We are dedicated to providing a safer working environment to our employees and our clients. We are members of IS Net and the PICS systems. We are proud members of the American Society of Safety Engineers and the American Industrial Hygiene Association.
The Leader In Solar Technology
StarCom's solar powered safety signs bring awareness to any hazardous area. Downtime due to accidents and poor procedures costs our municipal, industrial and commercial customers millions each year.  With our rugged, state of the art solar powered LED signs; you now have a powerful tool to confront any potentially dangerous area.
Plant turnarounds, traffic control and pedestrian safety are just a few of the applications for this important product.  StarCom Solar can support your needs through our rental fleet or you can purchase for permanent installations.  We can also custom build to support your unique application.
Let us help in providing your customers, employees and subcontractors with a safer working environment.
---
StarCom Solar Case Studies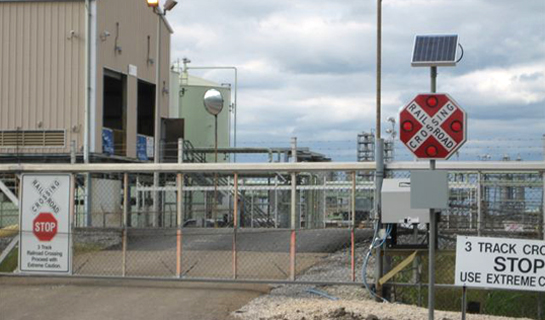 Marathon Petroleum Company – Garyville, LA
With the help of URS Corporation, we were asked to produce multiple rail road crossing solar safety signs.  Marathon Petroleum had experienced a problem at a hazardous rail road crossing inside their Garyville, LA refinery.  Always concerned with safety, they new the wanted a sign that brought "more awareness than the typical rail road sign."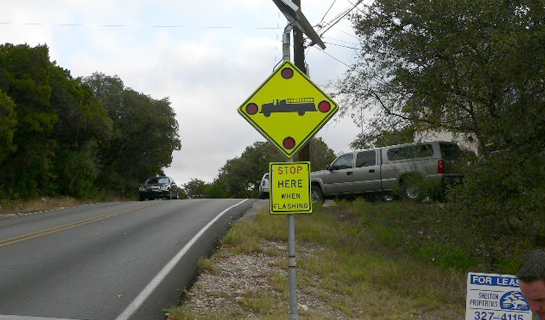 West Lake Fire Department – Austin, TX
The West Lake Fire Department had some unique challenges.  The station was located on the middle of a hill.  When they pulled out of the station, on coming traffic from both the top and bottom of the hill could not see them.  This created a dangerous traffic control area.  StarCom Solar was asked to create a remote activated Fire Truck/Stop When Flashing solar unit.  This enabled the engine driver to remote activate the flashing signs with a hand held remote.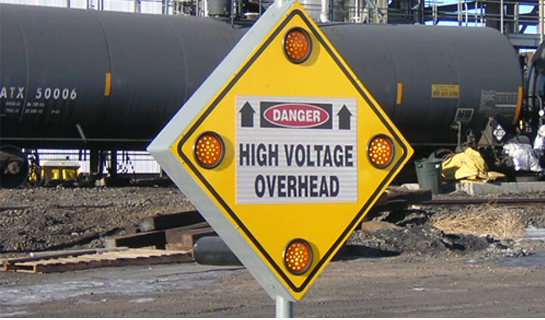 Frontier Refining, Inc – Cheyenne, WY
Frontier Refining faced a dangerous situation concerning overhead power lines.  They wanted to alert heavy equipment operators about this potentially risky area.  They wanted to "take extra precautions with flashing high voltage signs."  StarCom Solar made a High Voltage sign with flashing 4" LED lights to bring added awareness to this hazardous situation.